28 Sep
September 29 is the Feast of the Archangels
Credit: Catholic Culture. Org
The Catechism of the Catholic Church teaches us that, "[T]he existence of the spiritual, non-corporeal beings that Sacred Scripture usually calls "angels" is a truth of faith. The witness of Scripture is as clear as the unanimity of Tradition."
Angels are pure, created spirits. The name angel means servant or messenger of God. Angels are celestial or heavenly beings, on a higher order than human beings. Angels have no bodies and do not depend on matter for their existence or activity. They are distinct from saints, which men can become. Angels have intellect and will, and are immortal. They are a vast multitude, but each is an individual person. Archangels are one of the nine choirs of angels listed in the Bible. In ascending order, the choirs or classes are: Angels,  Archangels,  Principalities,  Powers,  Virtues, Dominations, Thrones, Cherubim, and  Seraphim.
St. Michael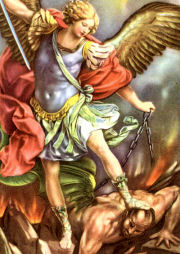 The name of the archangel Michael means, in Hebrew, who is like unto God? and he is also known as "the prince of the heavenly host." He is usually pictured as a strong warrior, dressed in armor and wearing sandals. His name appears in Scripture four times, twice in the Book of Daniel, and once each in the Epistle of St. Jude and the Book of Revelation.
St. Gabriel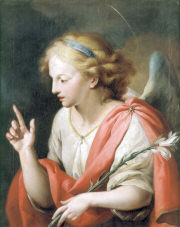 St. Gabriel's name means "God is my strength". Biblically he appears three times as a messenger. He had been sent to Daniel to explain a vision concerning the Messiah. He appeared to Zachary when he was offering incense in the Temple, to foretell the birth of his son, St. John the Baptist. St. Gabriel is most known as the angel chosen by God to be the messenger of the Annunciation, to announce to mankind the mystery of the Incarnation.
St. Raphael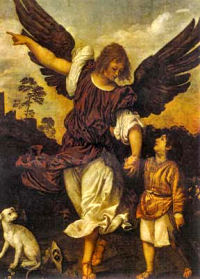 Our knowledge of the Archangel Raphael comes to us from the book of Tobit. His mission as wonderful healer and fellow traveller with the youthful Tobias has caused him to be invoked for journeys and at critical moments in life. Tradition also holds that Raphael is the angel that stirred the waters at the healing sheep pool in Bethesda. His name means "God has healed".
Read more. CLICK HERE